Dr. Sharjeel Usmani
KBNM, FEBNM,FANMB, CBNC
Consultant Nuclear Medicine
Sultan Qaboos Comprehensive Cancer Care
and Research Centre
Muscat, Oman
A 44-year-old male complaining of abdominal pain, palpitation, tachycardia, hot flashes, chest tightness and diarrhea for 3 months. CT show small solid enhancing rounded nodule just anterior to the pancreatic head which measures 2.2 cm in short axis. Biopsy show well-differentiated neuroendocrine tumor. 68Ga-DOTA TOC PET/CT is done for staging. 68Ga-DOTA TOC PET/CT show increased tracer uptake in the previously described soft tissue nodule anterior to the pancreatic head (measuring 2.1 cm, SUV max 10.3). Another focal increase uptake of SUV max 4.8 is seen in the D6 vertebra. 
The 68Ga-DOTA TOC avid lesion in the body of D6 vertebra is related to ?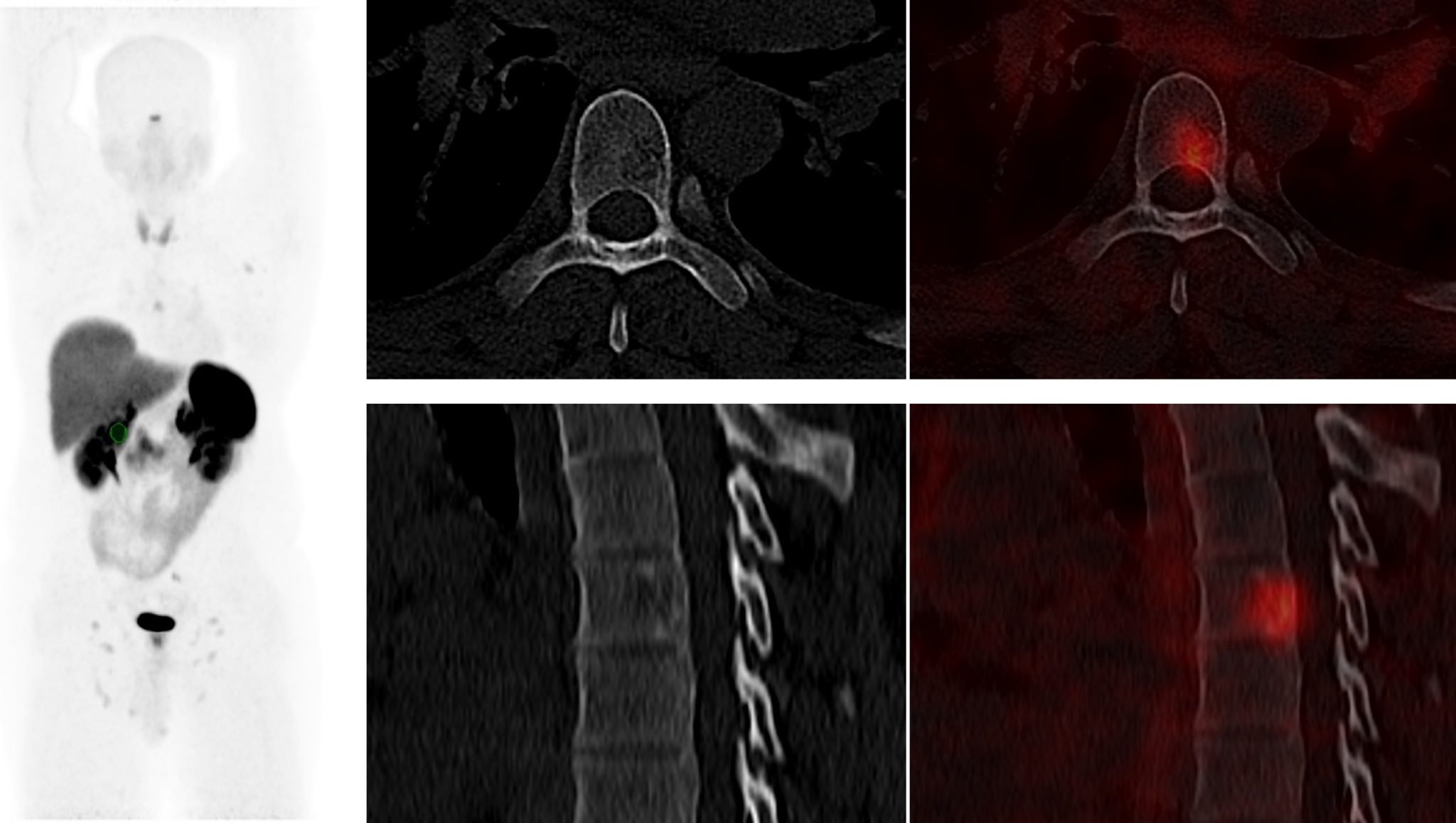 a)      Benign bone disease, likely hemangioma.
b)      Non-specific uptake in the bone is quite common on 68Ga-DOTA TOC PET/CT
c)      Somatostatin receptor avid bone metastases.
d)      Findings are likely benign, likely fibrous dysplasia.
e)      Suspicious 68Ga-DOTA TOC avid lesion need further evaluation with MRI.
Answer: a
corresponding CT images clearly demonstrated a coarse vertical trabecular pattern on the axial and sagittal slices with classic polka dot pattern on the axial slices, typical for vertebral hemangiomas.
Somatostatin receptor scintigraphy is an established modality for imaging well-differentiated neuroendocrine tumors [[i]]. 68Ga DOTA peptide PET imaging is very specific method, but it can accumulate in benign inflammatory and granulomatous diseases like tuberculosis, sarcoidosis, or rheumatoid arthritis as activated macrophages and lymphocytes express somatostatin receptors on their surface [[ii]]. Studies has also shown the somatostatin receptor expression in vertebral hemangiomas [[iii],[iv]]. Vertebral hemangiomas are often incidental, predominantly show asymptomatic findings in MRI or CT scans, and are most commonly found in the thoracic spine. Histologically, they consist of thin-walled, blood-filled vessels and sinuses set in fatty marrow [[v]]. The Anatomical imaging should always be important for lesion characterization. Radiographically the classic "corduroy cloth" or "jail bar" appearance is strongly associated with vertebral hemangiomas. Axial CT will show a "polka-dotted" or "salt and pepper" appearance due to the thickened vertebral trabeculae. Although bone metastasis from NETs is very rare, without evaluation of the concurrent CT images, the vertebral tracer uptake could be interpreted as skeletal metastases. Combining the anatomic and metabolic information on PET/CT is crucial for accurate tumor staging.
REFERENCES
[i].       Ambrosini V, Nanni C, Fanti S. The use of gallium-68 labeled somatostatin receptors in PET/CT imaging. PET Clin. 2014;9:323–329.
[ii].      Vanhagen PM, Krenning EP, Reubi JC, et al. Somatostatin analogue scintigraphy in granulomatous diseases. Eur J Nucl Med. 1994;21:497Y502
[iii].     Brogsitter C, Hofmockel T, Kotzerke J. (68)Ga DOTATATE uptake in vertebral hemangioma. Clin Nucl Med. 2014;39:462-463.
[iv].     Klinaki I, Al-Nahhas A, Soneji N, et al. 68Ga DOTATATE PET/CT uptake in spinal lesions and MRI correlation on a patient with neuroendocrine tumor: potential pitfalls. Clin Nucl Med. 2013;38:e449–e453.
[v].      Friedman DP. Symptomatic vertebral hemangiomas: MR findings. AJR Am J Roentgenol. 1996;167:359Y364.