22nd August, 2020
Case submitted by Dr. Sharjeel Usmani
Kuwait
58-year-old female is a known case of right breast cancer on hormonal therapy. Recently presented with severe left shoulder pain. 18F-NaF PET-CT is performed by injecting 4.1mCi of 18F-NaF.  a) Anterior MIP images b) left c) right cross-sectional 18F-NaF PET-CT images show increase tracer activity at left shoulder region. What is the diagnosis ?
Osteoarthritic/degenerative changes at left acromioclavicular joint.
Fracture at left acromial process.
Aggressive bone lesion at left acromial process of left scapula; for further radiological evaluation.
Os acromiale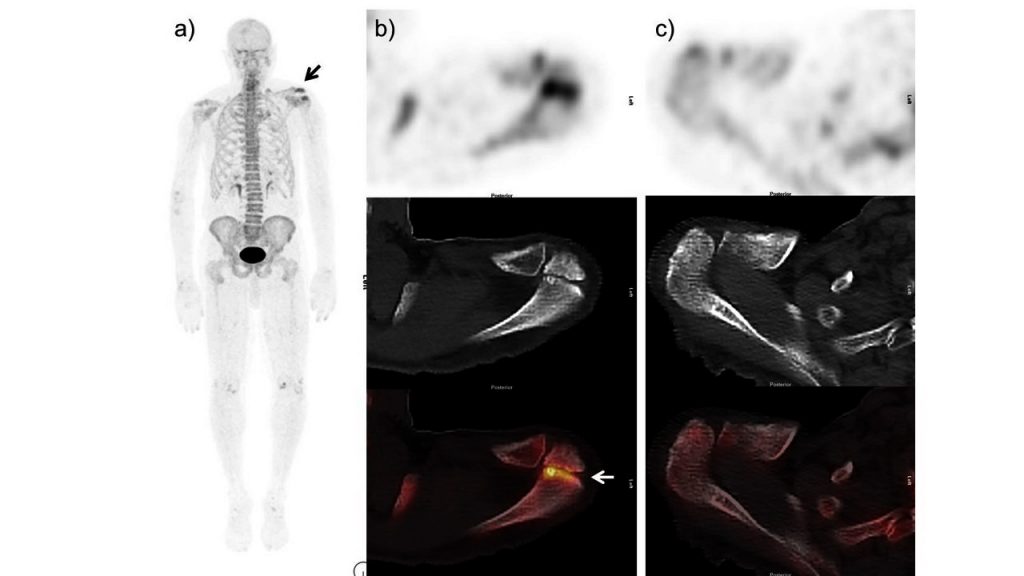 Symptomatic Os acromiale (OA)
CT images shows unfused left anterior acromial ossification center (Os acromiale – OA) with irregular border and sclerosis along the acromion-acromion articulation. b) 18F-NaF fused axial images show increase tracer uptake at the articulation site. Findings are consistent with osteoblastic activity in the left OA which was congruent with symptoms on clinical review. c) Right acromion process is unremarkable.
Os acromiale (OA) is the unfused epiphysis of the anterior part of the acromion that can be a potential source of shoulder pain [[1]]. OA is typically an incidental finding with reported incidence of about 8% in the population [[2],[3]]. Symptomatic OA, can present as classic outlet impingement syndrome. OA can be missed on anteroposterior or y-view scapular radiographs but readily seen on Computed tomography (CT) with 3D reconstructions [[4]]. MRI is a helpful adjunct in radiographic evaluation of indeterminate shoulder pain. [[5]]. Bone scanning, when positive, can be useful in assessing OA as a contributing factor in a painful shoulder, especially in patients at the cusp of skeletal maturity [[6]]. There are some reported cases of potential role of SPECT/CT in painful OA [[7]].
18F-NaF PET-CT is a sensitive tool for detecting skeletal metastases surpassing conventional bone scintigraphy [[8]]. Encouraging results are also seen in characterizing benign bone pathology [[9]]. Few studies also highlight the significance of 18F-NaF PET CT in symptomatic accessory bones [[10],[11]]. 18F-NaF uptake in os acromiale can be a clinically relevant finding and in some patients, can provide valuable functional information with significant implications on management. 18F-NaF PET-CT can be helpful in establishing the true role of OA in patients with difficult to manage shoulder pain [[12]].
References:
[1].      Edelson, JG, Zuckerman, J, Hershkovitz I. Os acromiale: anatomy and surgical implications. J. Bone and Joint Surg. 1993;75:551-555.
[2].      Sammarco VJ. Os acromiale: frequency, anatomy, and clinical implications. J Bone Joint Surg Am. 2000;82:394–400.
[3].      Kurtz CA, Humble BJ, Rodosky MW, et al. Symptomatic os acromiale. J Am Acad Orthop Surg. 2006;14:12–19.
[4].      Granieri GF, Bacarini L. A littleknown cause of painful shoulder: Os acromiale. Eur Radiol. 1998;8:130-133.
[5].      Ryu RK, Fan RS, Dunbar 5th WH. The treatment of symptomatic os acromiale. Orthopedics. 1999;22:325-8.
[6].      Warner JJ, Beim GM, Higgins L. The treatment of symptomatic os acromiale. J Bone Joint Surg Am. 1998;80: 1320-1326.
[7].      Al-faham Z, Jolepalem P. Use of SPECT/CT with 99mTc MDP Bone scintigraphy to Diagnose Symptomatic Os Acromiale. J Nucl Med Technol. 2015;43:236-7.
[8].      Löfgren J,  Mortensen J, Rasmussen SH, et al. A Prospective Study Comparing 99mTc-Hydroxyethylene-Diphosphonate Planar Bone Scintigraphy and Whole-Body SPECT/CT with 18F-Fluoride PET/CT and 18F-Fluoride PET/MRI for Diagnosing Bone Metastases. J Nucl Med. 2017;58:1778-1785.
[9].      Ovadia D, Metser U, Lievshitz G, et al. Back pain in adolescents: assessment with integrated 18F-fluoride positron-emission tomographycomputed tomography. J Pediatr Orthop. 2007;27:90–3.
[10].    Usmani S, Marafi F, Ahmed N, et al. 18F-NaF PET-CT in Symptomatic Fabella Syndrome. Clin Nucl Med. 2017;42:e199-e201.
[11].    Usmani S, Sit C, Gnanasegaran G, et al. Pictorial atlas of symptomatic accessory ossicles by 18F-Sodium Fluoride (NaF) PET-CT. American Journal of Nuclear Medicine and Molecular Imaging. 2017;7:275-282.
[12].    Usmani S, Marafi F, Esmail A, et al. Initial experience with 18 F-sodium fluoride (NaF) PET-CT: a viable functional biomarker in symptomatic Os acromiale. Br J Radiol. 2018;91:20170741.